PSCCC01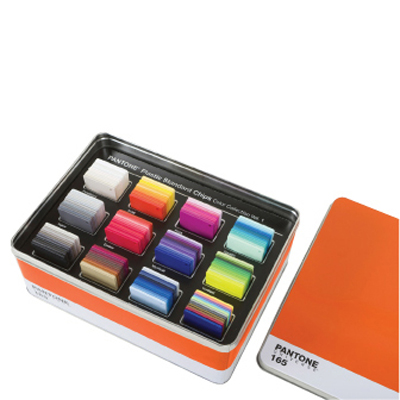 A set of 154 of the most sought after Colours.
PANTONE Plastic Standard Chips offers accurate specification of Colour, reliable Colour Matching and consistent Colour control in the development of your plastic products.
Suitable for toys, consumer electronics, home furnishings, appliances, accessories and more, across multiple plastic substrates.
This set contains 154 of our most popular colour and has selections from all major color families; key trending neutrals – blacks, greys and whites – and sought after special-effect metallics and neons.
The Color Collection Volume 1 comes in an attractive tabletop display. Replacement chips are also available.
Have 154 of the most desirable product design colors at your fingertips - to inspire you and support fast production.
And bought as a set represents a considerable saving over individually purchased chips.
FEATURES - at a Glance
These Larger chip measures 3" x 1-7/8" in size.
The set contains chips with a gloss finish one side and a matte finish on the other side.
The tiered thickness is 1mm and 2mm.
Each chip is identified with the relevant Colour name and number.
Polypropylene substrate closely aligns with common production materials. Pigment formulations are also available for other plastic resins.
A hole in top corner enables palette groupings.
Pigment formulations included